6 Tips for Using Images in Email Marketing
Email marketing allows you to connect with new and existing subscribers directly and cost-effectively. However, the fact that recipients receive dozens of emails every day requires that your approach is tailored to capture their attention.
The use of images in email marketing is one way to accomplish this. Any marketing campaign's success is highly dependent on its visuals. Nevertheless, the question is: How can you use images effectively in email marketing?
We have compiled a few tips to help you use the images in email marketing to their full potential.
What is email marketing?
Email marketing aims to send personalised emails to your target audience. 79% of marketers believe it is among the top three marketing channels. It also has a higher potential of converting prospects into loyal customers.
Emails connect with your target audience, generate leads, and increase sales. It is also essential for the acquisition and retention of your customers. Email marketing can include promotional emails, newsletters, new product updates, event invitations, confirmation emails, and product survey forms.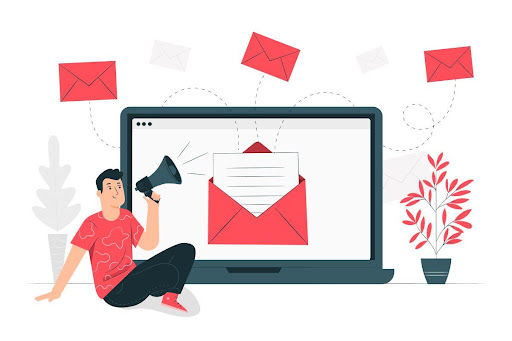 Why should you use images in email marketing?
The importance of visuals in marketing is obvious. But should you use them in emails too? Absolutely! Let's find out why!
Images improve the aesthetic appeal of your emails.
Images add life to long, dull blocks of copy. They quickly grab the attention of your email list.
Unlike text, images convey your message more effectively to your prospects.
They also improve engagement and get more leads.
A study shows that emails with images have twice as many click-through rates compared to those without visuals.
Top strategies for using images in email marketing
Now let's discuss the top tips to help you use impactful images in emails.
Ensure relevancy and brand consistency
A relevant image can make a difference in getting people interested in your offer. If you're selling a service, use images that show how the service works. If you've got a physical product, use images that showcase the product from every angle to generate the audience's interest.
It is not necessary to hire a photographer for your email marketing campaign. Stock photos are a valuable resource for getting engaging images for your emails. You can find a wide variety of relevant and affordable images on different stock websites.
But ensure that you choose images that are consistent with your brand. Personalise these images with your brand's colour theme, logo, CTA, and tagline.
Don't overcrowd your email with images. Your email may take longer to load if there are too many images, and some subscribers may even block them. Keep a ratio of 40% images and 60% text. A good balance of image and text increases the readability of your email, and your audience is more likely to read the entire email.
Choose the right dimensions and size for image
After choosing relevant images for your email marketing, you must adjust their size and dimensions correctly. It will take longer for larger images to load. Often, people report emails with distorted or incomplete images as spam as well.
Hence, choosing the correct dimensions and size for email marketing images is essential. Ideally, the height and width of images should be less than 200 and 600 pixels, respectively. Use verified tools to resize and crop your images. Avoid cropping images in strange dimensions for the sake of adjustments. The image should still have all its necessary elements intact.
Use the correct image format
The image format is an overlooked element in email marketing. However, the correct format can impact the display of visuals in your email. While there are many formats, including JPG, PNG, GIG, SVG, and PSD – not all are suitable for email images.
This is because some formats are not compatible with specific browsers or apps. The quality of an improper format may appear deformed when the email is opened. That's why it's crucial to insert images in the correct format. The three most popular and recommended image formats for email marketing are:
JPG (JPEG)
JPG images have the lowest quality, yet they take up the least amount of space when compressed. That implies that emails with JPG images will have a fast loading time.
PNG
PNG images have the highest quality and are best for text-based graphics such as logos. They have higher colour depth, sharpness, and more evident contrasts. Due to high-resolution, emails with PNG images can have a slow loading time.
GIF
GIF images refer to animation without videos. GIFs have a more creative margin than regular images but don't have enough colours. However, they are smaller, which lets the emails load faster.
Make your images clickable
The ultimate goal of email marketing is to get more click-throughs to your website. One of the most effective ways to achieve that goal is by making images clickable. When you hyperlink the images, you increase the chances of your audience taking the desired action.
For example, you can link a product's image to its listing on your website or the image of an ebook to its downloading URL. When your subscriber clicks on the image, it immediately opens the web page where you want to take your user. It also makes the click-through process easier and faster, ultimately increasing the chances of customer acquisition.
Clickable images can also be a way to establish your website's authenticity in your emails. So, when users receive your email, they shouldn't be looking all over the copy to find the link to your website or the product page. When you already hyperlink your images, you build a sense of trust and authenticity in the minds of your audience.
Optimise for multiple devices
About half of the emails are opened on mobile devices. However, the visuals may appear differently on each device, browser, and mobile application based on their privacy and display settings. This is why it is necessary to optimise the visuals of your email to adapt to different technological mediums.
The process of image optimization relies on resizing and making adjustments to the image. But make sure this doesn't affect the quality of those images. Use high-quality images that won't blur after optimization. Test your emails on multiple screens and browsers to ensure the proper display on all of them.
Don't skip alt text
Even after image optimization, many of your subscribers may not be able to view the media files. Some people turn off image displays for their emails. Email apps can also block pictures. Or they can fail to load due to slow internet speed. That's where the importance of Alt text lies.
Alt Text is a short description of your image. Think of it as a backup text that ensures your receiver can still comprehend the information about the image even when it fails to load. It also has significant importance for visually impaired people who use a screen reader to read the content on the screen.
Keep the Alt Text of your images simple. Keep it short but relevant. If it's a text-based image, replicate that text in Alt Text. Avoid repeating your Alt text in the same email.
Conclusion
With images, email marketing becomes more effective. Using relevant and brand-consistent images can increase your email open rate and click-through rate (CTR). Consequently, this improves engagement and sales.
Images in emails slow down their loading time, so you must make sure you use the suitable sizes, dimensions, and formats in your emails. Considering that more and more people check their emails on their phones and tablets these days, you need to optimise your images for multiple devices.
Follow these tips to create more aesthetic and engaging emails for your subscribers. Best of luck!