What Is Google Tag Manager and How It Can Help Your Business
Google is not a new name when it comes to online infrastructure. In fact, Google is the first name that would come to your mind when you think of the internet and other online media. This article is going to be about Google Tag Manager.
In case you don't know what Google Tag Manager is, we are going to help you know a lot about it. But it is not only the fundamentals that we are going to discuss here, we will talk about several other things as well like the ways it can help you in the growth of your business.
Let us start by talking about the fundamentals associated with Google Tags before we start discussing other advanced concepts.
What is Google Tag Manager?
Before we start talking about Google tags, you should have a proper idea about marketing tags themselves. Marketing tags are simply small pieces of code that are popularly called Pixels.
These small pieces of code are generally written in JavaScript and they are written to perform specific tasks on certain websites. Marketing tags play a vital role in collecting important information from specific websites about visitors. Those vital pieces of information include things like the way those visitors behave on your website.
Google Tag Manager is a management system from Google that people use to manage tags on the desired websites. When you have multiple websites for marketing purposes, it becomes quite a difficult task to keep track of everything manually.
That is exactly where your reliance on software solutions like Google Tag Manager plays a role. And there are two main reasons that make Google Tag Manager so popular. First, it is free of cost and the second feature is quite common in all the marketing tags i.e. you don't have to alter the codes in the tags for getting what you want.
How does Google tag manager work?
Google is quite a big company in the online world and some of its products are well-accepted by experts from different parts of the world. Google Tag Manager is able to do its work effectively by sharing information between different sources.
In your case, the primary data source is your website from which the google tag manager will collect essential pieces of data, and then this data is shared with other data sources like Google Analytics, etc.
The way Google Tag Manager stores all the tags in one place is a very helpful feature for the majority of people. Google Tag Manager eliminates the need for programmers when it comes to managing the code of marketing tags.
Is it easy to use?
This is the first question you might ask about any software solution that you are about to opt for. We are going to discuss a few aspects of it in this section. A large number of online marketers use Google Tag Manager and they say they are able to do it without the need for a web developer.
Though there is a need for some knowledge in certain fields before you get started. But you can learn those technical skills about certain marketing tags for Facebook, etc. on your own. Above all, you will get a lot of help in learning the basics of Google Tag Manager if you have enough idea about the basics of Google Analytics.
Basic knowledge about things like events, etc. are going to help you a lot throughout this process.
How is it going to help your business?
Coming to the main question under consideration, let us talk a bit about the way it can help your business. You must be aware of the way marketing tags give you valuable insights into the market situation for businesses about the customers. Let us give you some idea about the way it helps businesses.
Lets you create specific and relevant tags
This is an all-in-one solution to a majority of your business needs from a marketing tag. Whether you want to create tags for your business or some product, the creation of relevant tags will help you keep track of several aspects.
Whether you want to know about the clicks on the links on your web pages, conversion ratio, etc.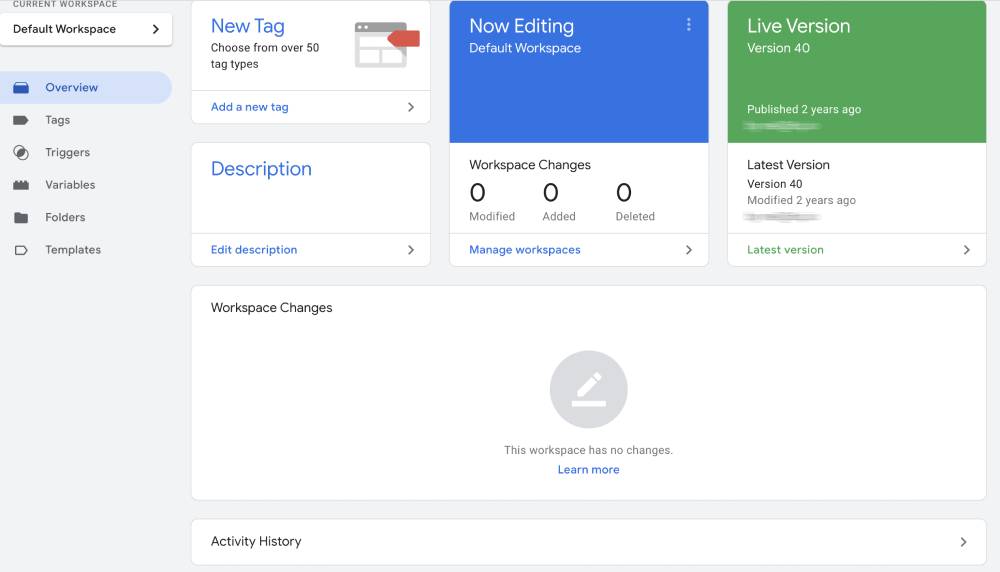 You can access all your tags from one place
This is another important feature that you get from the google tag manager. All the marketing tags (such as conversion tools, etc) are accumulated in one place. Once you open the dashboard of Google Tag Manager, you will be able to know about all the marketing tags i.e. the number and types of tags present.
If you are following other techniques, you will find out how convenient it is to get things done from one place. Apart from that, you can use the dashboard to know about the functions of tags after certain activities on the webpage.
These activities include things like clicking on links (internal or external), initiation of downloading from the website, etc.
Exceptional ability to integrate with other tools
Integration abilities of any software are really important these days because of the diverse needs of businesses. You can easily integrate Google Tag Manager with essential tools like Google analytics, etc. for maximum utility.
If there is a need, you can easily integrate other third-party applications as well. It is an effective way to help you enhance your abilities by integrating with useful software tools in your time of need.
Helps you do your job while keeping the visitors happy
It is quite surprising the way GTM lets you add as many tags as you want without impacting the loading time of your website.
If you are trying to know about your visitors and this process hinders their sole purpose of visiting your website, you are simply annoying them. But you will not face this issue while using GTM.
Final thoughts
As this tool lets you do so many things, it might take a bit of time to learn every feature. You now know much more than Google Tag Manager. But the good news is you can learn the majority of those things on your own.
You might need to learn something from scratch but that is not a big deal. Tags can be modified for different purposes and that is the main reason why you need to know more about tags, in particular. You will figure these things out easily once you get started.