How to Choose a Shopify Theme for Your E-commerce Store
The field of e-commerce is booming at a pace that is more than ever. With such a wonderful growth rate, there could never be a better time than now if you want to start your own store online. And the times have changed a lot. Unlike earlier days, the effort needed to establish a store of your own has decreased dramatically.
With Shopify, things have become really easy. This single platform is just a compilation of all the desired features like scalability, efficiency, better user experience, etc. So, there is no surprise in why so many people are loving Shopify these days.
Apart from that, there are a large number of themes to look through when you set up your Shopify store. So, it is up to you to choose a Shopify theme based on the demands and preferences of your target customers.
But choosing the right theme is quite a complicated process. The selection of the right theme requires some important considerations. We have gathered together a list of the best ways to help you find something that exactly suits your needs.
You will be able to get your business on the right track of growth only when you are working precisely as per the needs of your customers. So, here is the way you should choose a Shopify theme in order to make your store perfect. Before we get into further details, here is a quick look at what these Shopify themes are all about.
What are Shopify themes?
A Shopify theme works almost the same as the themes we use in other devices. A Shopify theme decides the way your website looks and functions.
So, almost every element of the user experience in your online shop is dependent on the theme you have selected for your store. That is why you have to choose the right one. Since you can't afford to lose online customers due to inefficient themes.
How to choose the perfect theme for Shopify?
Considering the elements mentioned below would be quite helpful for you in this regard. Let us have a look at them.
Consider your budget first
Shopify offers a large number of features and themes. Some of them are free while others are paid. Different themes come with different price tags. Several factors affect the price of those themes. The experience of developers, customisation features, and availability of functions are significant factors determining the price of a Shopify theme.
You will get the features based on the amount of money you paid for them. Being aware of the needs and demands of your customers and your financial ability will help you choose the right price range.
Make a list of features you want from the Shopify theme
If you go on looking for a theme randomly, it is very unlikely to find something that exactly matches your needs. There is a systematic way to start your search and it is by making the list of desired features first.
Once you make that list, your search for the perfect theme will become a lot easier. With the list of required features in your hands, you will look in a particular category, hence you will narrow down your basket of options.
The features that you want from a Shopify theme are highly dependent on the demands and preferences of your target audience. All you need is to consider the features that are going to enhance the user experience. You can take a look at the preview of the page to get more ideas about the available features.
Each theme is different, however you will want to keep an eye out for themes that include features such as;
Responsive design
It is important that your store is accessible by the growing percentage of people who use mobile devices to shop.
Multiple layouts
Whilst consistency is great, it is an advantage to have a few different product layouts to choose from. You can then write great e-commerce product descriptions and choose the best layout for the item.
Product filtering
Say you are selling Women's Shoes. It would be great for your customers if they can choose colour (Brown, Pink, Black, etc), size (36, 42, etc) or even event (Formal, Casual, Wedding, etc).
Advanced media gallery
Having images is so standard for products, it is nice to go that one big step, and allow for product video, or 360 degree images, etc.
Product comparison
Why is Product X better than Product Y? Having the ability to compare two or more products side by side is a very handy feature in some ecommerce stores nowadays.
Decide your genre
Every Shopify theme available online is designed for specific categories of shops. The design and functions of the theme are highly based on the type of items you are selling through that e-commerce store.
Whenever you want to choose a Shopify theme, considering your niche, in the beginning, will be quite helpful.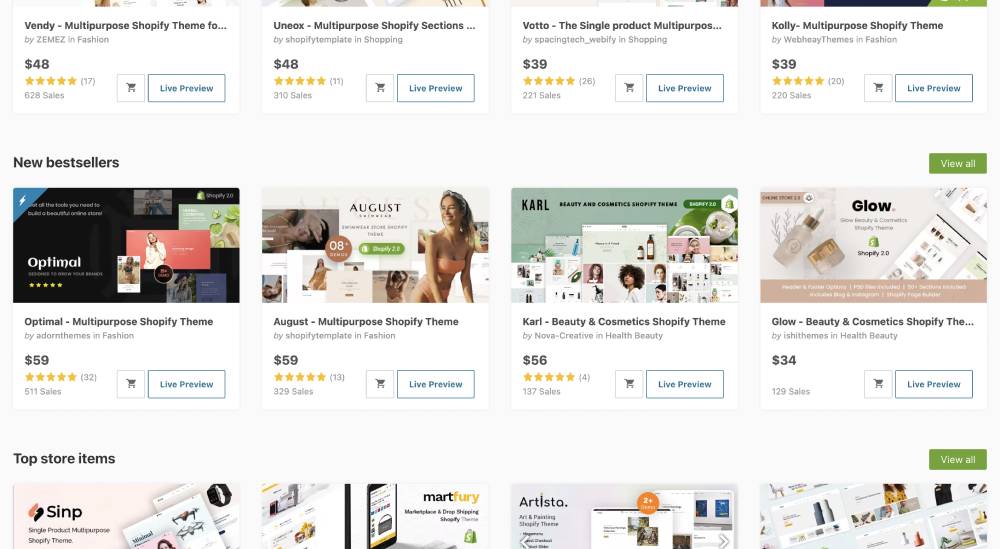 Here are some sources to help you get the best themes
Since we have talked a lot about the ways to choose a Shopify theme, it is time to take a look at some of the best options available today.
Envato Market
This one is not a theme but one of the best sources to get the Shopify themes you want. With over 1,400 themes precisely developed for Shopify, there is no other marketplace or website with this many options available to you.
The best thing is, you can browse the themes based on categories. Irrespective of your requirements, you can almost be sure to find exactly what you are looking for once you arrive at their official online store.
Shopify themes
We have gone through the views of many experts in this field. And a significant number of such experts are inclined towards the Shopify themes store. Since Shopify offers a large number of themes for various e-commerce needs, you may get your job done without going anywhere.
These themes are known to be most effective since they are designed by Shopify itself. Hence you are more likely to find exactly what you want from this source. Make sure you consider getting the best themes that a modern e-commerce store needs.
Debutify
This one is simply considered among the smartest ecommerce themes available today. As the name suggests, you can use this theme to make an effective debut on Shopify. With its seamless way to help you build your customised store in hours, this one remains one of the most popular at present.
Having support for several integration options, this one serves the purpose for varied clients. Whether you have to start your drop shipping or you have to enhance your online e-commerce business, Debutify has got every possible help. They also offer a free trial period for some time.
Final words
When you are about to choose a Shopify theme, you need to make sure they align with your requirements precisely. Since the user experience on your e-commerce store solely depends on the theme, make sure you are riding along with the modern trends.