Easy Social Media Scheduling With Missinglettr
Being equipped to do easy social media scheduling has now become a need of the hour. As the majority of businesses are widely using social media platforms for promoting and running their services/products, maintaining a strong presence is really helpful there.
But all those things require constant effort from your side. This is where social media scheduling comes into play. It is a nice and easy way to get your work done without much intervention. 
What is social media scheduling?
Social media scheduling is the process that enables people to schedule the posts that they intend to post on social media platforms. So, the social media scheduling tools will enable you to post your content on social media accounts at a specified time.
All you need to do here is set the time and feed the pieces of content you want to post, and it will be done automatically. This tool has added a lot of convenience to the users of social media platforms in many ways. A large number of tools are now available in this category. Let us take a look at the one where you can do these things quite easily. 
Missinglettr: Your one-stop solution to all such needs
If you are looking for a social media marketing platform that can deliver you an all-around service, then Missinglettr is definitely for you. It has tons of features to offer but we will be concerned more about its social media scheduling capabilities. Let us talk about a very unique and efficient feature called Calendar. 
All you need to know about Calendar
Once you start using it, there is no need to use any other calendar for such purposes. This one is equipped with enough features that you may organise your content in the best possible way. Whether it be scheduling your posts, automating them, or any other activity required to be more organised, you can do them all with the help of this Calendar. 
You need to be very much precise and careful about the calendar as it gives you enough idea of the required activities from your side on your social media account. Social media campaigns that you are a part of or the posts you have to make need to be done with perfect timing. With Calendar, you can have a look at all the upcoming events and needs associated with your social media account.
Hence, you will never miss out on any of your essentials. And the best part is, you will be able to do all these things with peace of mind as your involvement is not required all the time. 
Such an arrangement lets you focus on other important tasks needed for the improvement and growth of your business. Take a look at some features that make Calendar one of the best in its category:
Its ability to manage all your needs related to social media
This is a unified social media scheduling platform where you get every essential feature needed. Once you get started with it, you will be able to control all your upcoming tasks related to social media posts. It is equipped with several features other than just scheduling. 
More features to help you plan your social media posts way before the date
Every activity of yours can be planned with the help of this week before you will post the content on social media. It is developed to help you plan your posts by collaborating with all your team members. There is enough room for making the necessary improvements in time. 
It helps you create appealing content
There are enough resources to help you create and compose the best social media posts. You can make use of a post editor and other tools for this purpose. A special library of images is also there to help you further. 
It enhances your ability to make changes in the middle of this process
There are several occasions when the usual plans are changed. It would be really chaotic when you don't have the options to make changes. Missinglettr has taken care of those needs already.
So, you can remove some posts and include new ones to the list very simply. The best part is, you will be able to make those changes right from the calendar. It is super easy and convenient. 
Keep track of other things by using notes
Calendars have the main purpose of reminding us about the most important things in our lives. And Missinglettr calendar is equipped with those essential features as well. Making the necessary notes gives you the immense ability to keep track of other important things in your life.
You will see a '+' icon after opening the calendar. Just clicking on this icon lets you add notes regarding all your basic needs.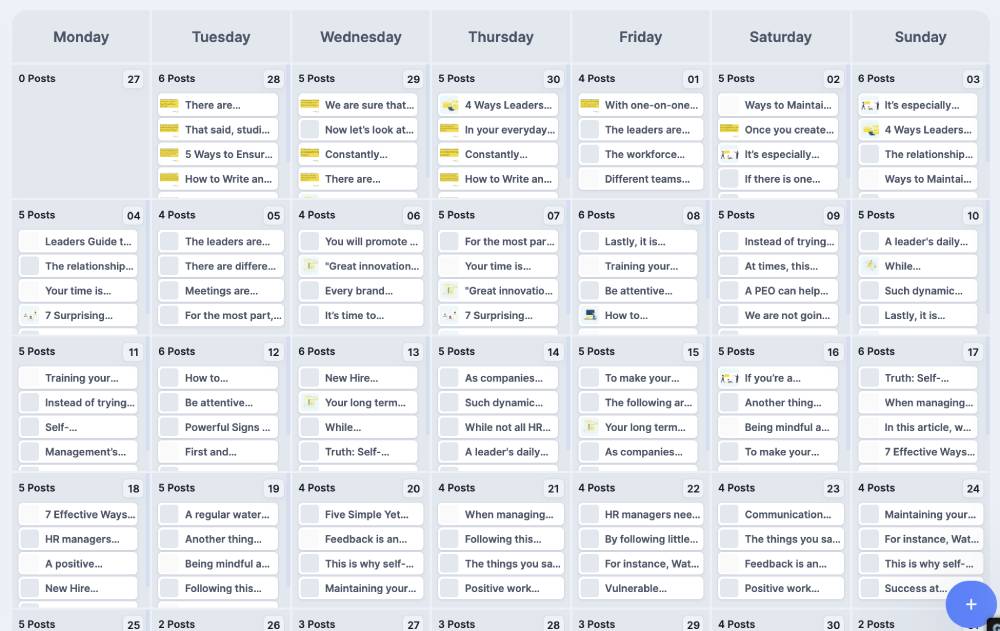 Some major benefits of social media scheduling
There are different benefits associated with the use of social media scheduling tools. Taking a look at some of them will help you understand them better. 
Keep you away from distraction
Social media has become just a second name of distraction in many ways. And when someone has to use these platforms for work, the distractions will come as granted.
With these tools, your work on social media platforms will be automated and you will have enough time to focus on important things in your life. 
Your ability to post anytime from anywhere
Once you have scheduled your posts, there is nothing to be worried about. After you have fed the content, it will be posted at the specified time without your involvement. So, you can enjoy your weekends or work in your office while the scheduling software is taking care of your social media posts. 
Final thoughts
There is a large number of social media scheduling tools available but Missinglettr is special in many ways. Those who are serious about growing their business by making the right use of social media should definitely consider this one.