Things to Consider When Choosing a Website Hosting Provider
Choosing a website hosting provider is often left to the last second, however with a bit of planning and consideration, you could end up with a better hosting supplier, faster website and better uptime.
The choice of web host is a really important one. Getting this wrong means an ineffective website, no matter how much time or money you spent on creating it. Let's go through what a web hosting company does and doesn't do, what are some key questions that you should ask yourself. We will also cover some features to look out for when choosing a website hosting provider.
What is a website hosting provider?
You probably do not have the hardware required to host your own website, not to mention the time and expertise. That's why most people pay a web hosting company to do the job.
A web hosting company is a supplier of digital real estate. Web hosting is literally storing your website files somewhere publicly accessible with high speed internet connections and a high uptime (meaning the servers are rarely down or offline).
For simplicity sake, think of a website hosting server as a city block. Most hosting is 'shared hosting', meaning that your website sits on one slice of the server, and my website sits on another slice, and Person X's website on another slice and so on. They rent your slice of server to you, and ensure that it has power and RAM, and all the things required to host and display a website to the public.
Dedicated hosting is where the whole hosting server is yours. Imagine putting your computer in a server rack, and all it contains is your website files. That's what dedicated hosting is.
The files and images that you create (or are created for you by a website design agency) that make up your website physically reside on a web server (fancy computer) which is owned and managed by the web hosting company. They maintain the infrastructure and other hardware, backing up files (but you should also, in case) and provide technical support for you to help maintain the site.
The below image shows a typical server facility. Each one of those doors is a server rack, which can contain anything from 8-20 servers. Each server may have 1-100's of websites on it.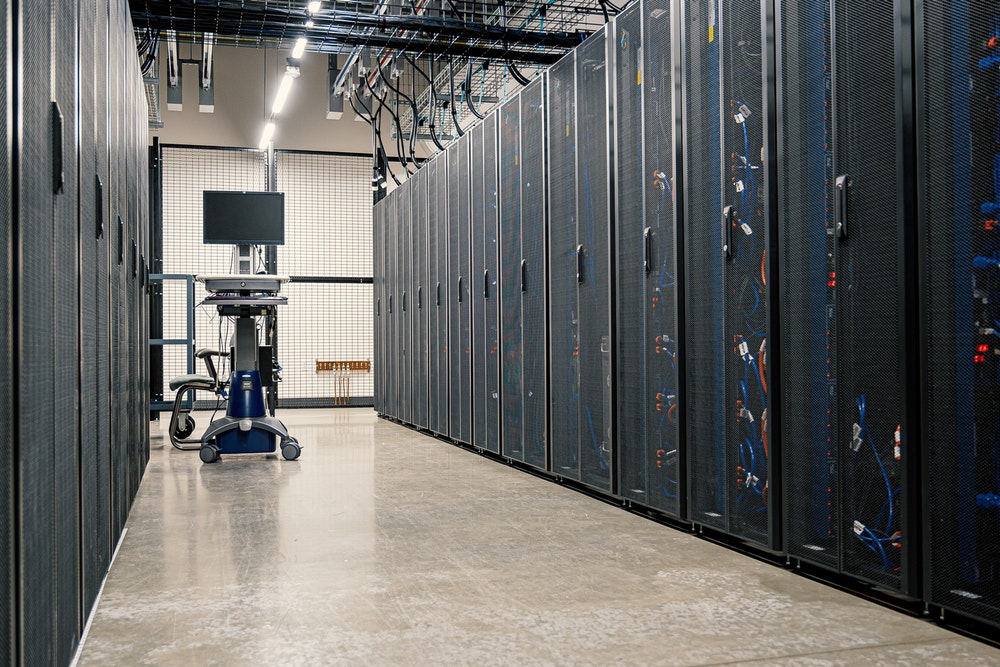 What does a website hosting company NOT do?
Even with the plain English description above, it's quite easy to get confused about what a web hosting company does or does not do. They may offer a variety of additional services such as pre-installed content management systems (such as WordPress or Craft CMS), hosted shopping systems, website design tools, domain names, secure SSL certificates, SMS gateways, to name a few.
Whilst some may offer some of these things, it is typically not their responsibility to maintain them or consult with you on new versions and the like.
Domain names
Let's start talking about a domain name. This is the name that will be known, what people type in the web browser so they can see your website. An example is premierweb.net.au which is this website's domain name.
In order to own a domain name and to be able to use it for your website, you have to buy it. It must be a unique name that is not already in use. You buy the right to use a particular domain name by registering it with a company known as domain name registrars.
You don't need to purchase web hosting from the domain name registrar you choose. In fact, I recommend using separate suppliers for these two services. It makes it much easier to change web hosting providers at a later time, if the company is not also your registrar.
Creating websites
If you need help on the design and layout of your website, I strongly suggest you consider finding a web design agency, that is entirely separate from your web hosting supplier. Many hosting companies may offer low quality template websites, and a number of website designers may earn extra money by selling or reselling hosting services, however this may not be ideal.
These web hosting resellers can often take you out of the communication loop, which can cause support problems down the track.
Design changes, etc
I've also seen cases where website hosting companies have offered design and content changes and the like. It is up to you if you are willing for them to do that. There is no real right or wrong answer to these relationship questions, it's more how comfortable you are.
I have heard of business owners who have had their websites taken prisoner by designers who also provided website hosting to them. This makes it extremely stressful for the entrepreneurs to access their data and making it almost impossible to change web hosting companies.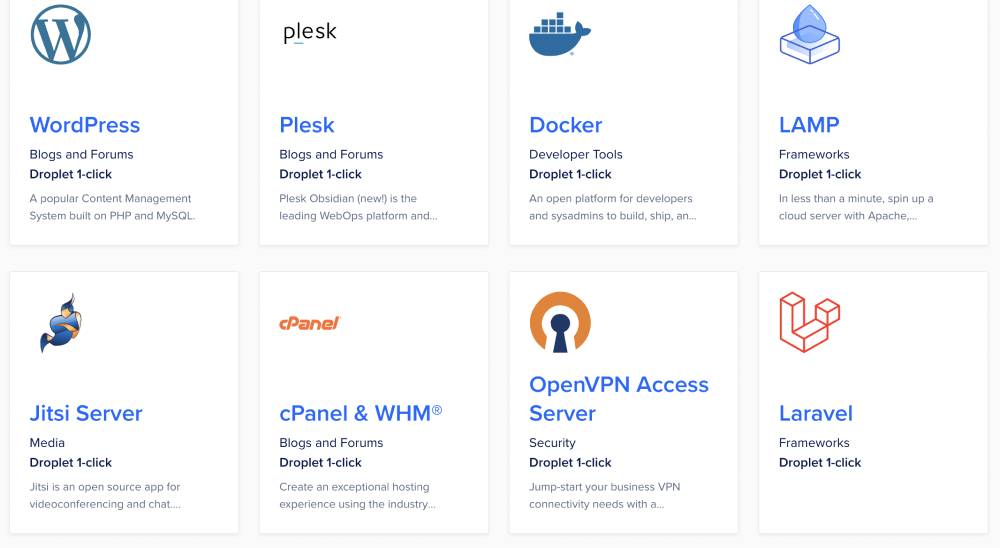 Things to consider when choosing a website hosting provider
They may all have similar looking flashy websites and lots of acronyms, however website hosting companies can often be significantly different in what they offer, the quality of their services and their prices.
Operating environments
If you have a website built in a specific language (such as PHP, Javascript, etc), or you require a specific platform for your site or files, then your first check should be to ensure that the website hosting provider you are looking at, offer these environments as standard.
As an example, the image above shows the Digital Ocean marketplace. They have 100+ pre configured applications available as 'one click' options. They make it super easy fro you to install a specific operating environment, hosting platform or software tool.
Speed and performance
If your website speed sucks and hosting performance is down much of the time, your business and reputation will suffer badly. No matter what features are provided, or how nice their support team is, when your website is down, you are losing customers.
Having consistently fast speeds and high uptime is crucial. Check for reviews or a 'status page' to show you about how regular they have any outages or performance problems.
Technical support
Nobody cares as much as you do on your site, so ideally you should have a direct connection to the technical support people, and feel comfortable in dealing with them.
Technical support is critical. Research what their support channels are. Do they offer just email support during business hours, or 24/7 telephone support, or something in between? Different hosting companies may offer support on different days and times, or via different support channels, such as;
Telephone support
Live chat
Email support
Support ticketing
Knowledge base
Support documents
Try contacting them before you sign up, and see what their response time is like. Also check if there are any language barriers. It does not matter how competent technical support staff are, if you can not understand what they are saying.
Backups and security
Do you get backups included, or are these an additional fee? What frequency are they done? For example, a daily backup means any work you have done today may be lost in a disaster, but at least they have what your website was like as of yesterday. A monthly backup could be a whole month's worth of work or transactions, etc that is lost.
Always look into what security is included as standard too. Whilst most web hosting providers won't update your WordPress plugins and themes, or do things that personalised, they should be taking care of general server maintenance issues, and providing good high quality firewalls, etc to avoid hackers.
Location
Where are their web hosting servers, and the company for that matter, located? This can have quite an impact on the website speed, as well as potential issues with customer support, if their support hours conflict with your timezone.
Where are your website visitors? If they are global, this isn't as important, however if they are mostly local to say, New South Wales, then choosing a server that is located on Australian soil may be better.
There are many Australian hosting companies, and global web hosting companies who have a presence in Australia for this very reason. For example, Vultr is a great hosting provider and they have server facilities in Sydney (and a number of other countries), even though they are headquartered in Florida, USA.
Included server space
When researching and choosing a website hosting provider, you may see terms like 100mb, or 1gb, or 10gb. What's it all mean Just like your computer hard drive, a web server has a certain amount of space. All of your website pages and images etc take up hard drive room.
Say you have a 10 page website with some small images and downloads. That is probably only 10mb of space. A 2,000 page website with lots of video and audio files could easily be 1gb of disc space. If you are unsure, then speak to your web designer or ask your current hosting company if possible.
Included website traffic
You may see terms like 100mb, or 1gb 'traffic'. Every time someone visits your website, they download the pages they look at, across the Internet. So, a website with 5 visitors a day looking at a handful of pages won't cost much in traffic. However, a site with 20,000 visitors per day could use plenty of traffic quota.
If you have Google Analytics or a website traffic software package, take a look there to get a sense of how many visitors you receive to your website each month.
Additional costs
What are any additional services that you will expect to use, and do they cost any extra? I have seen some web hosts that charge for backups, and unless you get them, your website could simply disappear if there were any incident or disaster.
As you can see, choosing a website hosting provider can be a costly mistake if done poorly, hence articles and guides like this one, to help you.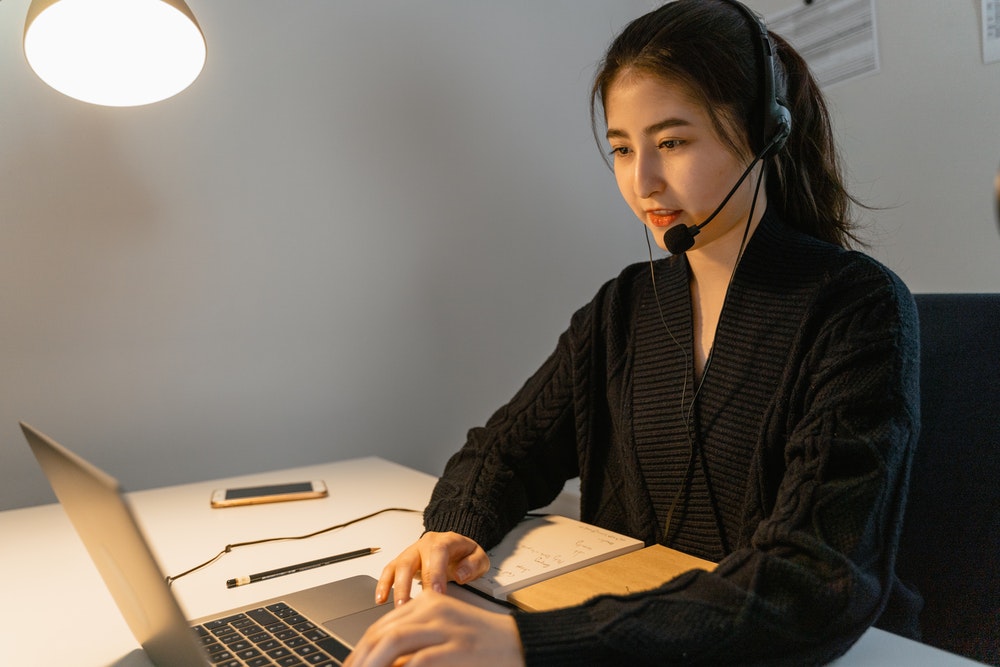 How to further research a potential website host?
There are dedicated websites that compare and share reviews so you can learn about different hosting companies. These sites are often created to purely advertise a handful of companies though, and aren't clear about any commercial dealings.
The way I prefer to check is to search on Google for phrases, such as;
[company name] reviews (for example, "Digital Ocean reviews")
[company name] complaints
[company name] support
You can also ask your friends who have websites, and ask them where they are hosting them. Also ask if they are happy with the service with their current hosting company.
Ideally, you should try and find a few customers on each hosting company, and email them and ask, or use a tool like Pingdom Tools to measure their speed. FYI, this website is hosted on Vultr for instance.
Summary
As with many aspects of running your business, even if you have no intention of maintaining a website yourself, the more you understand about what is involved, the better choices you will be able to make.
This is very true when it comes to choosing a website hosting provider or outsourcing technical work to others.