10 Critical Things to Consider When Buying a WordPress Theme
Websites lie at the centre of all the businesses and organisations that are present online. When someone visits your website, the first thing they notice is the layout and design. In fact, the design is your first-ever chance to make an impression. It's super important when buying a WordPress theme, to consider this and a number of other elements. There is no second chance for that initial impression.
WordPress has become quite a popular platform to get ready-made themes for websites. However you can't just go and buy any theme that you like and expect that it would work perfectly for your scenario. There are a number of essentials which you should consider before buying a WordPress theme.
The following is a list of ten elements to consider when buying a WordPress theme, so you get the right tool for the job.
The design
Well, it is the first thing you see when you are exploring the world of themes on WordPress and your visitors are also going to see it first. So, choosing the right website design is of prime importance in case you want to succeed in grabbing people's attention right in the beginning.
While choosing the design, you have to go for the one offering easy and smooth navigation along with a neat and clean interface. A website filled with too many designs often appears very complex and you have to avoid such themes in the first place.
Apart from this, you have to take a look at the backend panel of the theme. Remember you have to work on the back-end constantly while users are busy scrolling the front end. So buying a WordPress theme with a friendly back-end panel will be a nice and convenient option for you.
Buying a WordPress theme that's SEO ready
SEO has become quite a crucial thing right now. You can't ignore the potential of this technique in case you are curious about maintaining your online presence. And the extent up to which you can incorporate the use of SEO into your website is highly dependent on the theme of your website.
You can easily check for this feature by looking for the SEO ready tag on the theme. However the tag is not effective in most cases so you need to check it using tools like Mozbar, SEO site, etc.
Available features
Having a responsive website has become a very important factor here. Then there are some features to look for in any theme you want to buy. Though we can't mention all those features here however here is a shortlist:
Sliders
Custom contact form, post types, and widgets
Page builder
Availability of more colours and other attractive features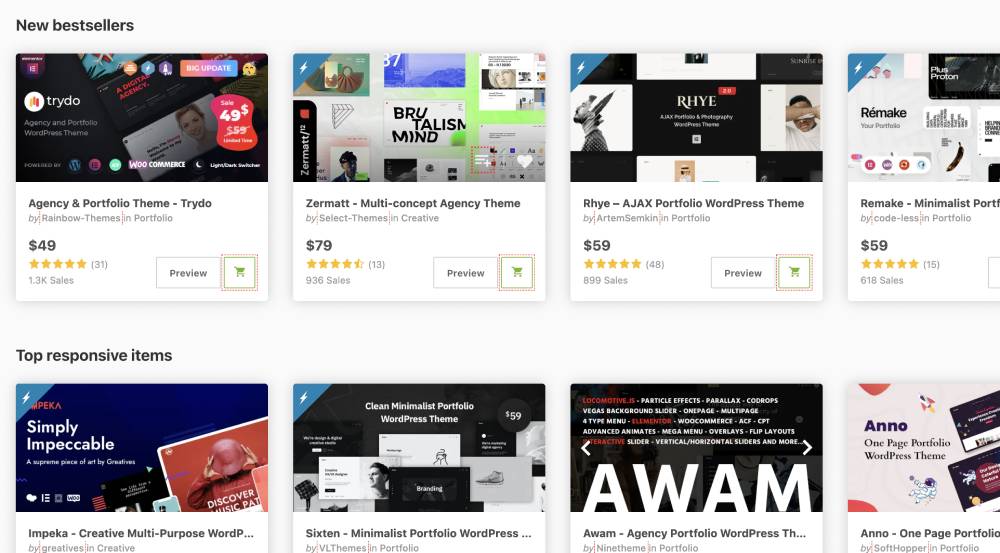 Technical flexibility
After that comes flexibility. Since the marketing trends are changing very swiftly, your website needs to make those necessary changes. Once you buy a theme, there is no way you can implement it to your website in the purest form.
You need to make the right customisations in order to make it fit with your business portfolio. So, a theme with better flexibility options is always demanded. You can get all the essential information about the customisation options by reading the license and other clauses associated with it.
Check whether the page offers drag and drop feature
Drag and drop is one of the most popular and convenient features to have right now. Since making modifications is quite a common thing however you have the process to do it is not so simple.
With the help of the drag and drop feature, you can make any number of modifications very easily based on your needs about the website. With this feature customising the website a child's play. Every form of customisation can be made seamlessly.
Fast loading
It is really important nowadays to have a very fast website. People nowadays, don't have enough time to wait for no reason. Make sure you have chosen a theme with a proper response time in all situations.
You can have a look at different elements of the website and their functions by visiting the demo of your target theme. Several speed testing tools are also available to give you some idea about the performance of the website.
You should test the website speed by adding different design elements to the theme. It will give you some practical idea about the speed and other features of the theme.
Support for multiple languages
This is highly important for those buying a WordPress theme for a multilingual audience. Sometimes we get news about famous personalities or evens we are interested in however we are unable to change the language of the content. It is quite an annoying experience.
You can make your website free from such things and buy a theme with multilingual support. Such features add a lot to the user experience on your website. In this case too, you can use third-party plugins however the theme with such a feature is preferred more.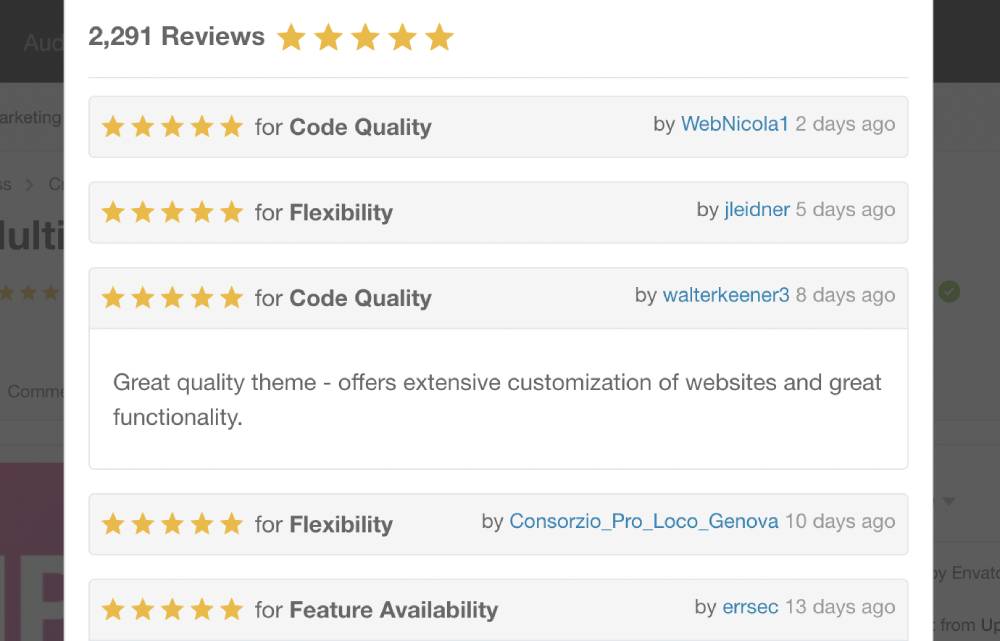 Great reviews
You should make an effort to read some reviews about the themes you have short listed. Don't just read the ones on the listing or developer website either. Do a search for the theme name, and see what you can find.
Theme Forest do a fantastic job of showing reviews, like the screen grab above shows. They have thousands of WordPress themes to check out.
Remember also to consider the date of the review, and any version number. Version 2.2 of a theme will be drastically different to version 7.5 for example.
Compatibility details
You have to read the details of browser compatibility before making the final decision. In many cases, the browser support is often limited by the developers and you need to be careful about that.
Make sure it meets the compatibility requirements set from your side. Apart from it, you can also check for faulty code in the theme by scanning it with online tools like Theme check, etc.
Monetisation options
There are several businesses that need to monetise their content on the website for revenue and other e-commerce reasons. However you will not be able to do it with all the themes. If you have such plans for your website in the future, opt for one with monetisation support.
Though there are several plugins from third-party developers that you can integrate however having a theme with a built in feature will be far more convenient. You can look for other features in the same way based on the specification of your business.
Summary of buying a WordPress theme
If you are in the need of buying a WordPress theme, you must check for the features mentioned above. You are free to find ones with some additional features as well however these features are the ones making a website efficient and effective than others.