Find Out How Long Tail Keywords Can Help You Get High Rankings
If you're a business owner or entrepreneur, fighting to promote your products or services online, then understanding long tail keywords is essential. The long tail is a way of describing the way search engines rank content in relation to each other.
It's basically a way of explaining which keywords are more effective for getting more traffic.
The keywords that you use on your website determine how easily people will be able to find your site through the search engines. This is why you need to know the importance of long tail keyword research.
Targeting the wrong keywords that have high competition won't get you anywhere. The name of this game is uncovering high-crawl keywords. These phrases should have little to no competition when search engines start crawling.
Not only does this critical SEO practice rank your site quick, it also ensures your top spot over a long-term course for the future. Below are a few vital steps you will need for discovering the correct long tail keywords and begin your keyword research for a successful website or blog.
Long tail keywords example
When your niche is selected and the keyword research tool is available, the researching shouldn't really take that long. For this particular scenario, we can use "real estate" as the example. Now I will explain exactly how doing the keyword research will work for you.
Your niche would be considered "real estate" if you are trying to sell a "real estate ebook". In order to get effective results, just enter "real estate" into your keyword research software tool and search for related keywords. In return, you will receive a register of keywords relevant to "real estate".
You need to select the keywords that most closely fit the needs of your target audience. If the keywords aren't specific enough, they will be of little use to you. Your keywords should reflect what you are selling; in this case, your keyword should include information about real estate solutions.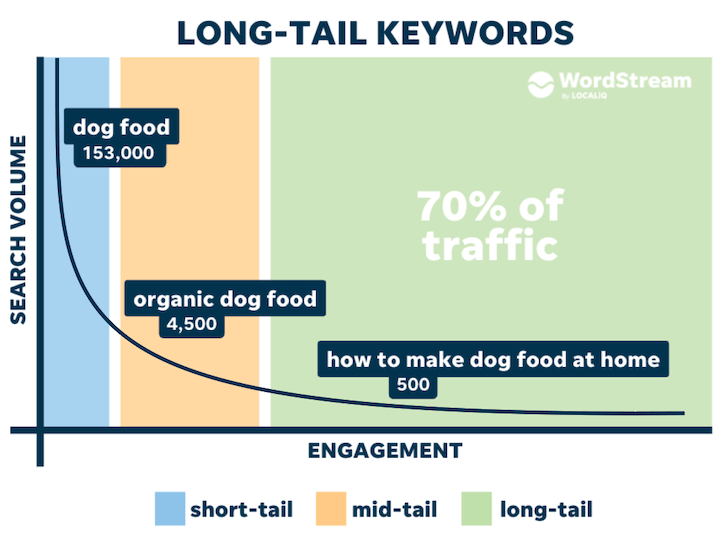 Keyword intent matters too
The other rationale for selecting keywords that are specific to buying is to avoid visitors who are just browsing for information. They may have no interest in making a purchase. Your goal is to sell your product or services, not just be an informational service.
You need to have a website that attracts visitors, but it must be ready to convert visitors to customers. You need to have a website that has a clear focus on the product or service you are selling.
Once you have your list of keywords save them all. Afterward, take each of the results and put them into the research tool one at a time.
The following results will produce long tail keywords. This is a great tool for finding long tail keywords. This tool will take a keyword and then it will find the top 20 results. You can then use this information to create content on the topic.
It can be a lot easier to get higher in the rankings through long tail keywords. A short one would be "real estate". A long tail keyword version would be "the best real estate in Australia". Note: I'm not suggesting you do this. I'm just showing how you can rank for "best" higher than you can for "real estate".
This makes it obvious that ranking for a keyword like "real estate" would be difficult, given the competition. The Google Keyword Planner is rather limited; an effective keyword research program will generate a multitude of possible long tail keywords that the Google program just can't do.
Final thoughts on long tail keywords
The previously listed steps will serve a crucial role in your search for long tail keywords.
Appreciating the true worth of long tail keywords is vital if you want to carve a lucrative niche for yourself in the online marketplace. Many search engine experts believe that this is the best way to dominate small niche markets.
You now have the information that you need to be able to research long tail keywords in an efficient way. You should now be ready to put your new found knowledge into practice and see positive results.